My beautiful friend Kirsty is having a baby, due in January, and a few weekends ago I had the pleasure of helping with her baby shower that was hosted at her parents' house. I love having a reason to do crafty things - but most importantly, I love Kirsty, and wanted to do what I could to make her day special. (She was actually put on bedrest the week of the shower, so she got a throne in the middle of the room! We had to keep fussing at her to sit down!)
I went with a vintagey/shabby chic/burlap, pink, mint and chalkboardish theme - that's totally a thing, promise. There are, of course, lots of great ideas for this on Pinterest. It was fun to find some things to re-purpose and create new things as well.
This was the invitation (well, this is the sample one) I ordered through Etsy. I loved it!! I had it printed at Staples on cardstock after it was designed with our info on it.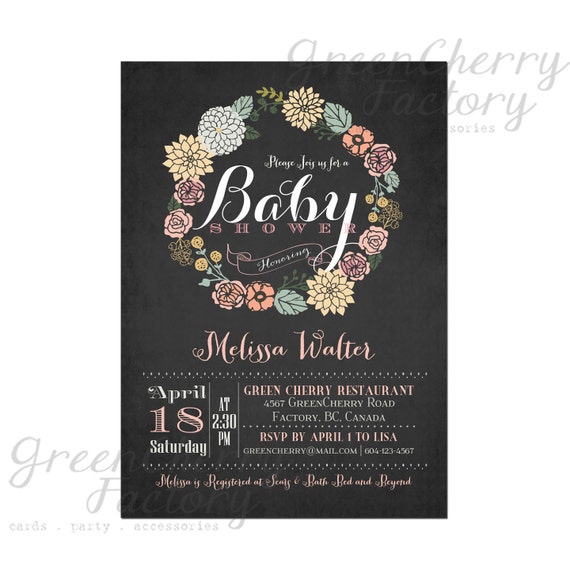 First, I made some chalkboard signs to hang up - always fun to do. I use my fancy image software known as PowerPoint (take that, Adobe!) and get them printed as Staples engineering prints for cheap. Pretty cute and they make a big statement for little monies.
(I have lots of pins of fonts for the letters and the pictures here on this board but some of my fave fonts are Clementine Sketch, Archistico, Chalk Hand Lettering, Kraft Nine, DK Carte Blanche, and many KG fonts - all free on Dafont.com or others)
To decorate the table, I didn't have to do much, since Kirsty's mom made lots of delicious and pretty food items! I knew I did want to do a tablecloth, though, but couldn't find an inexpensive way to cover a big table that I liked. So I decided to buy a regular painter's dropcloth and paint mint green stripes. It turned out pretty well, I think! It was easy enough to do the stripes with painter's tape and a tester pot of paint (Behr "Mint Shake"). I just free-handed the stripe layout, not wanting them to be too uniform, although I kind of wish I had measured. Oh well. I think it added nicely to the look without costing too much.
The rest of the things on the table were either things I already had, or were thrift store finds that got spray painted - little baskets, a birdcage, a scrapbook paper covered big book... Her mom also had lots of mason jars with flowers.
I made a little Welcome Baby banner out of paint chips and strips of burlap.
The stars of the show were some amazing cupcakes that her husband ordered from a local bakery (he's in Afghanistan right now, but he wanted to help and chose really well from afar!). They were absolutely adorable in their own little burlap wrappers and the the fondant on them was so impressive. They even tasted good! Usually you either get cute or yummy - these were both! The baby's name, a secret until the shower, was spelled out on the cupcakes.
I wish I could take credit for those beauties!
Her mom had also set up some cute stations around the room, including a guest book made of "I hope you..." cards.

I also wanted us to do a onesie decorating station, where guests could paint a onesie for the baby. I thought this was a genius idea - then I saw on Pinterest it was a very un-original one. Either way, it turned out great!! I got some stencils and her mom got the onesies and paint, and guests did a great job creating little outfits for Scarlet to wear.
Here's mine - I was afraid to do more than this!
The favors were little boxes I found at the Dollar Store with vintage baby mirrors that her mom had found online.
I set up a little photo area with kraft paper and one of my signs and paint chip banners. I didn't really think about how tall people are.... oh well! Make do with what you've got!
It was a great day spent with friends and her family. I am so grateful to have met Kirsty back in college over ten years ago. She was a wonderful friend (and momma!) to me then and I have cherished her friendship ever since. I cannot wait to share in her joy when little Scarlet arrives!
Love you, K!